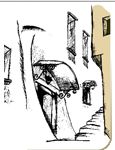 In the old city of Hania, on the western side of the Venetian harbour and next to the rampant of the Venetian walls, the Kores boutique houses, an independent – self serviced lodging of two tourist furnished residences that have been developed in a completely renovated multi-storey medieval building in the traditional district Topanas can be found.
The age of the building is high as are the numerous structural interventions in this, evolving with the passing of years and the passing of different cultures, in order for it to reach its final form in the mid 19th century, where two sisters, ancestors of the current owners, Ekaterini and Aspasia, resided in.
Maintaining the largest possible micro scale, the spaces in the building and aiming towards the maintenance of the two residences that have always existed in it, became the re-establishment – restoration of the building in order for it to reach its current form and function as a tourist lodging. The choice of structural materials that compose the building, colours, the planting, the interior design, the furnishing and the equipment became were carefully chosen to fulfill the aesthetic requirements of the renovated building, which is found in the heart of the old town of Hania, but also aiming for a pleasant stay in a modern house with a number of comforts. That is how the KORES were created, the residence with the name Aspasia and the residence with the name Ekaterini.
The residence with the name Aspasia is an enchanting house with particularly cosy spaces with light and frugal lines. The harmony of spaces in levels, the arches, erratic walls, the galleries and Venetian walls that constitute a part of the house, create an astonishing cluster of medieval architecture. This residence occupies the ground floor and the first floor of the lodging and is consisted of…
The residence with the name Ekaterini is an enchanting house with particularly hospitable rooms in light, earthy nuances and frugal lines. The harmonious connection of frugal internal spaces and beautifully shaped – planted exterior spaces with the alternations of levels, colours and materials create a particularly romantic environment. This residence occupies the second and third floor of the lodging and is consisted of…